Not 'sexy,' but crucial: Coding & documentation is essential knowledge for today's clinicians
In the world of value-based care and pay for performance, proper coding and documentation can raise the bottom line and ensure clinicians get credit for their work.
Linda Gates-Striby, CCS-P, ACS-CA, raised some eyebrows at the American College of Cardiology Cardiovascular Summit when she showed how much proper documentation and coding could affect a hospital's quality measures, bottom line and even a physician's reputation.  
Gates-Striby presented a hypothetical example of a 76-year-old woman with diabetes and heart failure. If clinicians documented only basic information about this patient, her expected cost of care per month would be in the ballpark of $5,000. But by coding more specific designations for her diabetes and heart failure—and noting an interaction between the conditions—the total risk score value would balloon to $13,554 per month.
"Sometimes it's not a matter of working harder but making sure it's accurately capturing what you're already doing," says Gates-Striby, director of corporate compliance at St. Vincent Medical Group in Indianapolis.
This issue is only growing in importance with medicine's shift toward value-based models, where the Centers for Medicare & Medicaid Services and other payers typically use some form of risk adjustment to come up with target prices.
Facilities are then evaluated based on their quality and cost-effectiveness against that benchmark, so if a hospital or physician commonly undersells the severity of patients' conditions, it's easy to see how a physician or facility could be perceived as providing low-value care.
This can have a deeper impact, too, as high-performing centers are eligible for bonus payments but low-performing ones can be hit with penalties.
"The natural inclination for a lot of us who are busy [and] who take care of sick patients, is to say, 'I take care of the sickest patients,'" explains Ty Gluckman, MD, medical director of the Center for Cardiovascular Analytics, Research and Data Science and a clinical cardiologist at Providence St. Joseph Health in Portland, Ore. "Some systems have made substantial investments in analytics to be able to share information back with clinicians to say, 'I know you may think that you're taking care of the sickest patients but in fact the data we're looking at doesn't suggest you do.' It is hopefully a nonpunitive sharing of data openly that will drive behavior change to say, 'Oh, my. I never realized how big of an impact what I document is.'"
More important, more complex
Documentation and coding is "not necessarily a sexy topic," Gluckman acknowledges, and it's sometimes difficult to convince busy physicians it's worth their time to master it.
An additional hurdle is the growing number of available codes and the struggles some clinicians have in selecting the correct ones in the electronic medical record (EMR). ICD-10 has about 70,000 codes—up from about 14,000 in ICD-9.
"A growing challenge for this is that most clinicians—and I think they're justified in saying this—didn't go through their medical training to become a coder," Gluckman says. "It was challenging enough when we lived in ICD-9 to understand what were the correct codes, how should I best be documenting. And with a significant expansion in the number of codes, you can only imagine it adding insult to injury in terms of people being more perplexed by how best to code overall."
Gluckman became interested in documentation and coding when he recognized some physicians whom he regarded highly could easily look like subpar providers based on data analysis. The quality of care wasn't the problem; it was capturing patients' comorbidities with the proper codes because only specific ones contribute to risk adjustment. For instance, "angina" or "unstable angina" adds to the risk adjustment score, but a simple "chest pain" designation does not. The same applies to "morbid severe obesity" vs. unspecified obesity.
Gates-Striby says a lack of education is often to blame. "As I speak with providers, they very quickly grasp the concept of the risk adjustment and the hierarchical condition coding, but people aren't getting the message to them," she says. "At least that's what they seem to be telling me is, 'Why am I just hearing this?'"
Money left on the table
In general, everything that factors into a provider's clinical decision-making is worth documenting, says Gates-Striby. She uses the acronym "MEAT" to remind the people she trains about which types of care may be billable and should be documented:  anything related to managing a disease, evaluating results, assessing or addressing tests or records, and treatment.
Clinicians often are surprised to learn that a simple three-minute conversation about stopping tobacco use is billable. It might be considered small change at around $14 per case, but add that up over all of the physicians in a large system and it makes a significant difference, Gates-Striby says. And most payers reimburse for it, so providers shouldn't worry about adding an extra cost for the patient.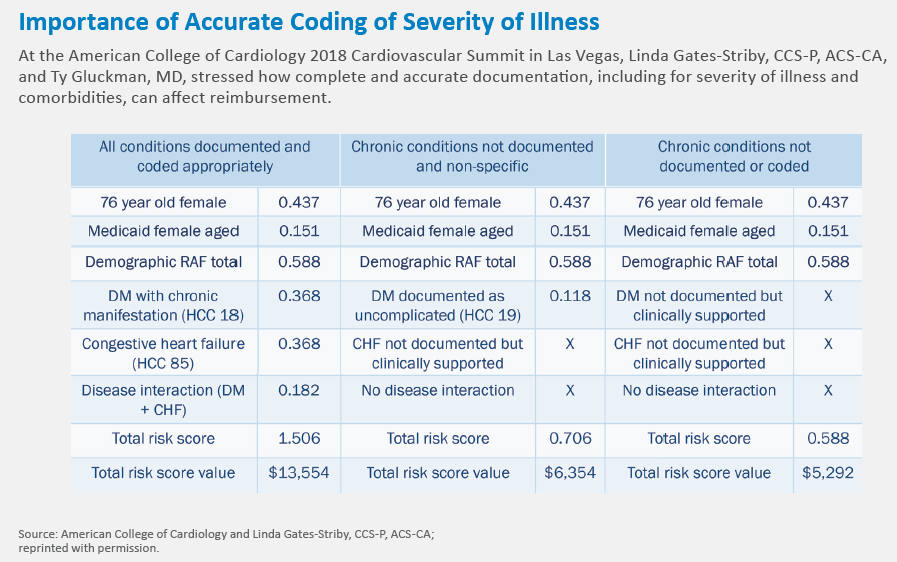 Support tools
Health systems are investing in both human and technological support tools to make coding as complete as possible.
Some hospitals have hired nurses and other employees with strong clinical backgrounds to review patients' charts and double-check with care team members whether they forgot to list a condition. This is a helpful safeguard, Gluckman says, but the responsibility remains on the physician or advanced practice provider to document completely in the first place.
"At the end of the day—even though there were a lot of people trying to assist the clinician in terms of improving the specificity of their documentation—if their notes don't reflect it, it's as if it never existed," he says.
Other support tools in the EMR have been designed to provide figurative taps on the shoulder if it appears something is going undocumented. For example, natural language processing could recognize when heart failure is mentioned in a note but not documented properly. Other software can scan lab data, vital signs and other information and prompt a provider to list a condition.
Gluckman says health systems have disproportionately invested in these tools on the hospital side vs. the clinic, but accurate risk adjustment is crucial in both settings. After all, it affects the system's financial health and how competent its providers look.
"There have been real teeth now with associated penalties that have been borne by hospitals, clinics, etc.," he says. "In contrast to in years past where you might get a pass for just reporting quality data or participating in a quality program, now it really comes down to the data and evidence of the care that you provide, so documentation has become much more important as a result."