Fighting CIED Infections Starts with Prevention
Experts Outline Device Selection, Prophylactic Antibiotics, Pre-procedural Protocols & Post-implementation Vigilance 
Cardiac implantable electronic devices (CIEDs) have been heralded as a major advance in patient care, appreciated for saving lives and improving quality of life. So, it's no surprise that the last two decades have seen a sharp uptick in CIED implantation. A 2007 study reported that the number of patients living with these devices had reached more than three million (Circulation 2007;116[12]:1349-55). A decade later, researchers noted that more than 300,000 new CIEDs are being implanted each year in the U.S. alone (JACC Clin Electrophysiol 2017;3[1]:1-9).
"With this increase comes an increase in the rate of CIED infections that seems to be out of proportion to the rate of device implantation," says Oussama Wazni, MD, section head of cardiac electrophysiology and pacing at the Cleveland Clinic. 
Wazni and other cardiologists interviewed by CVB note that the number of CIED infections varies across studies and can be difficult to evaluate because CIED infections can appear not only within a short interval after implantation but up to several years afterward. However, some cite a Europace study that showed a 96 percent spike in CIED implants and a 210 percent increase in CIED infec-tions over a 15-year period in the U.S. (2015;15[5]:767-77). 
"While there have been a lot of methodological differences between studies, the [CIED infection] rate seems to be about to 0.5 percent to 3.7 percent, depending on device type and how long patients are followed," observes Jordan Prutkin, MD, medical director of the electrocardiography lab at the University of Washington Medical Center in Seattle. 
The type of infection—device-associated infective carditis vs. pocket infection—also impacts infection rates, and several studies have revealed a higher rate of infection among patients with more complex devices, such as implantable cardioverter-defibrillators and cardiac resynchronization therapy (CRT) devices (Infect Dis Clin N Am 2018;32[4]:811-25).
More important is the fact that both the rate and the raw number of CIED infections are rising over time. The trend seems correlate with sicker patients getting devices. "More patients are getting devices with heart failure, renal failure, respiratory failure and diabetes, for instance, and the risk of contracting a CIED infection increases with these conditions," Prutkin explains.
"Compromised immunity and the need for frequent vascular access procedures present a very big risk all around," explains Gordon Tomaselli, MD, former president of the American Heart Association (AHA) and dean of Albert Einstein College of Medicine in Bronx, N.Y. He adds that there is a higher risk of infection in patients undergoing repeat CIED implantation than in those undergoing their first CIED implantation.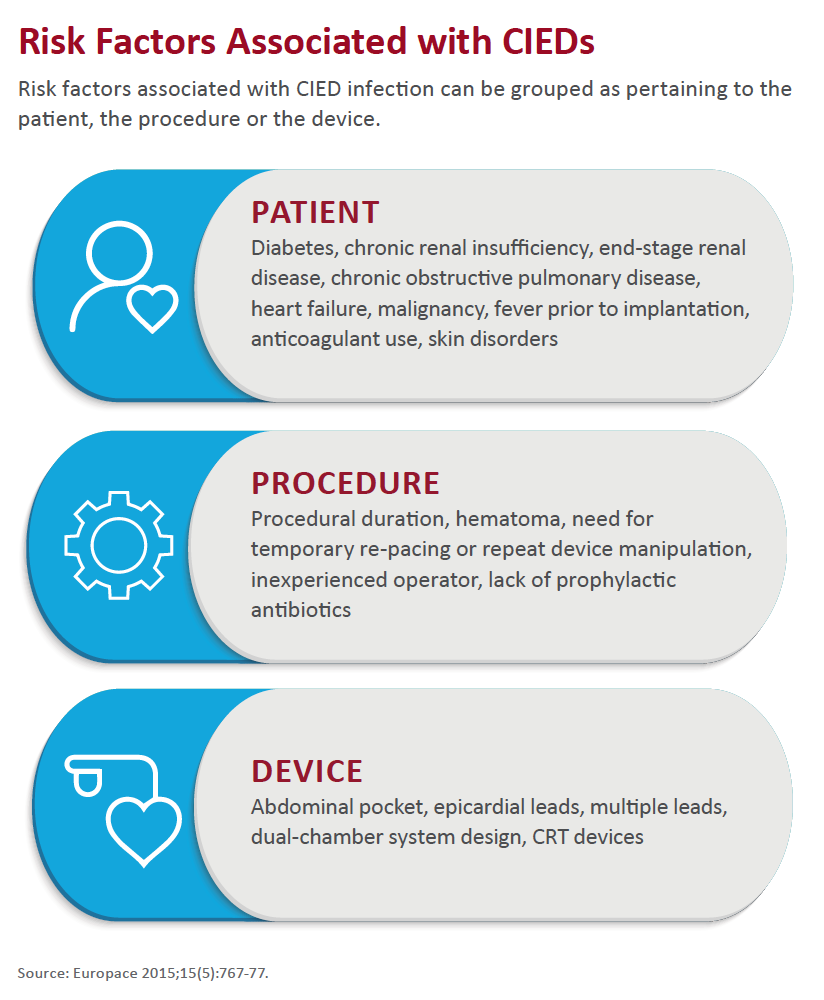 Preventive measures
The mortality rate for untreated CIED infections is nearly 66 percent. Even with appropriate therapy, the death rate ranges from 18 percent to 20 percent (Infect Dis Clin N Am 2018;32[4]:811-25). Mean hospital care expenditures per episode have reached more than $170,000 (Pacing Clin Electrophysiol 2017;40[3]:286-93).
Such statistics underscore the importance of considering preventive measures, Prutkin says. "Some CIED infections are slow growing and may be going on for years, but others are life threatening and can lead to sepsis, especially in those who have vegetation on one of the leads and bacteria in the bloodstream," he says. "Patients who get a CIED infection are at a higher risk of dying months or years after discharge, even if treated appropriately." 
Wilber Su, MD, chief of cardiac electrophysiology at Banner University Medicine Heart Institute in Phoenix, says CIED infection prevention starts with careful device selection in part because the risk of infection increases with every a dditional piece of hardware implanted, especially over time. "Any hardware in the patient creates risks of infection—and infection sites," he asserts.
Su points to the availability of devices that contain less hardware—for example, leadless pacemakers and subcutaneous ICDs. In several instances, he has removed a patient's infected device and replaced it with a subcutaneous one. Patients have fared well following the transition, with infection avoided because the subcutaneous device is protected from the bloodstream and blood-borne bacteria, he explains.
Intravenous antimicrobial prophylaxis also is recommended. The AHA recommends cefazolin be administered within one hour prior to incision or, for patients who are allergic to cephalosporin, vancomycin should be given intravenously within two hours prior to incision (Circulation 2010;121[3]:458-77). The American College of Cardiology (ACC) supports similar guidelines, says Dhaununjaya Lakkireddy, MD, co-chair of the college's electrophysiology council and medical director of the Kansas City Heart Rhythm Institute at HCA Midwest Health in Overland Park.
A newer preventive measure is the use of a fully absorbable surgical mesh envelope (Tyrx; Medtronic) into which an ICD or pacemaker may be placed. The envelope contains minocycline and rifampin. The envelope's ability to reduce major CIED infections through 12 months post-procedure following CIED generator replacement, upgrade, revision or de novo CRT defibrillator implantation is being evaluated in the World-Wide Randomized Antibiotic Envelope Infection Prevention Trial (WRAP-IT). Results are slated to be announced in March.
Meanwhile, a simpler step—scrubbing of proper duration with appropriate agents—plays a key role in CIED infection prevention, says Su. He tells of a situation about 10 years ago when Banner's CIED infection rate increased from nearly nonexistent to five such infections in a three-month period. An internal review revealed that a single surgical technologist had been forgoing the recommended 20-minute hand scrub in favor of squirting his hands with alcohol-based, commercially available "antibacterial" gel. Once the technologist was educated, the infection rate returned to normal.
Similarly, Prutkin recommends that patients' skin be washed with chlorhexidine the night before and morning of an implantation procedure because this protocol has been shown to reduce bacterial skin counts (even more so than the alternative, povidone iodine, used in some surgical procedures). He also suggests clipping (rather than shaving) the area before the procedure to prevent skin abrasion. 
Cardiologists also point out the importance of preventing hematomas that could surface following CIED implantations. They advocate avoiding use of low-molecular-weight heparin around the time of the implantation and, if possible, holding off on antiplatelet agents. However, Prutkin says, uninterrupted or minimally interrupted direct oral anticoagulants or warfarin appears to be a safe approach.
"It's important to ensure, too, that the pocket is well drained, and that there isn't a lot of residual blood present," Tomaselli adds.
Management basics
Patient education is imperative for managing CIED infections that do occur. Clinicians should assess the pocket for infection at every visit and remind patients to contact their staff immediately if they have pain at the site or start to see redness, swelling or even part of the device.
"Clinicians should strongly recommend to patients to pay attention to their body," Lakkireddy says. This is especially important for patients who are immunosuppressed, but all CIED patients should be advised to attend to any skin or other infections.
Tomaselli says PET imaging is useful for "looking for infections around the pocket" and is a good adjunctive tool to blood cultures and echocardiography. He notes that some cardiac clinicians will use CT while "MRI is not great because of the artifacts that come with it."
The AHA's scientific statement on CIED infections calls for managing superficial skin infections that do not involve the pocket with a seven- to 10-day course of oral antibiotics (with antistaphylococcal activity) along with close observation for symptoms of worsening infection during the oral antibiotic therapy. The AHA also recommends 10 to 14 days of antimicrobial therapy for pocket infections without concomitant bacteremia and a minimum of 14 days of antimicrobial therapy for those with bacteremia, with the latter extended to at least four weeks when blood cultures remain positive after device removal. The AHA also stipulates four to six weeks of antimicrobial therapy in cases where bacteremia exists in tandem with evidence of vegetations on echocardiography (Circulation 2010;121[3]:458-77).
Complete device extraction, including lead extraction, is recommended for all confirmed CIED infections. A retrospective study demonstrated that extraction is preferable to antimicrobial therapy alone. Together, antimicrobial therapy and early device removal produced a threefold decrease in one-year mortality vs. a sevenfold increase in patients who received antimicrobial therapy without device removal (Heart Rhythm 2011;8[11]:1678-85).
"The incidence of CIED infections will continue to increase as the population ages and becomes sicker," Tomaselli concludes. "But efforts at prevention and management will continue to lead to better outcomes."