Tracks & Training at TCT.19: The 2019 Transcatheter Cardiovascular Therapeutics scientific symposium will convene Sept. 25-29 in San Francisco.
On the heels of TCT's 30th anniversary in 2018, the Cardiovascular Research Foundation (CRF) is continuing several of last year's programmatic innovations and unveiling a few new features at TCT.19 in San Francisco. In a conversation with CVB, CRF President and CEO Juan Granada, MD, and Center for Education Executive Director Tricia Rawh described their plan to maintain TCT.18's momentum while tackling organizational priorities. 
Would you reflect on TCT.18 for a moment? How many people attended, and what was their feedback?
Rawh: We had 11,538 attendees, including more than 5,600 physicians, making TCT.18 one of the most successful meetings in our 30-year history. We appreciate the record because expanding physicians' access to quality education is an important part of CRF's strategic vision. 
Granada: The record carried across all of our physician attendance categories, which was a result of several things. One was lowering the registration rate to almost what it was for the first TCT conference, in 1988. But we don't think that was the main driver of the increased attendance. The more important thing was the steps we took toward making the meeting more practical. 

You're referring to the interactive training pavilions you launched last year? They'll be back at 
TCT.19?
Granada: Yes, the feedback on the technique- and case-based education in the training pavilions was very positive. We're expanding that this year, but with slight changes to reflect attendees' evolving needs. For example, we are introducing a complex case theater that will bring the interventional communities from around the world together to share their experiences.  All of the cases in the theater will be based on case discussions. It will be intimate and engaging.
And you are adding tracks?  
Granada: I think of the TCT conference as being like going to Disney World—multiple rides available at the same time. It can be overwhelming. To facilitate all of the attendees choosing what they want, we've organized the program in two ways. First is addressing different learning needs, so we have different types of sessions: didactic sessions focused on sharing data from science and research; hands-on training, focused on device architecture and how to do procedures; the challenges we face and how to handle complications, which is often best learned through cases; and the business and regulatory aspects of our field. Within that framework, we've segmented the program by tracks, according to attendees' interests. 
Rawh: The tracks are Coronary Core, Coronary CHIP, Structural Valve, Structural Non-valve and Vascular. They reduce the overlapping of content, which will give attendees time to explore more sessions in their own interest areas. 
Granada: For example, an attendee who is specifically interested in coronary applications will have a fulfilling experience without too many times where coronary education is competing against more coronary education. The same goes for the other tracks. To the extent possible, given the realities of space, time and schedule, attendees should be able to deep-dive into the areas they choose. 
TCT's new partnership with the VEITH Symposium will focus on the vascular track? 
Granada: It's so important to bring all the stakeholders together. That's how we avoid skewing messages, which can happen when education is managed by a single specialty or subspecialty. As a result of our new alliance partnership with the VEITH Symposium, we will have vascular surgeons, interventional cardiologists, interventional radiologists and others coming together to discuss relevant aspects of vascular interventional care. It will be a win-win for everyone.
Do you have predictions about timely or pressing questions that attendees will see addressed at TCT.19?
Granada: The controversies around drug-coated balloons are sure to be an important topic. And, of course, we will be one year out from the presentation of the COAPT data. Expect discussion on what COAPT has meant, and will mean, for the field of mitral interventions. And we'll be continuing the discussion about low-risk TAVR and new TAVR devices. 
[Since this conversation, CRF announced the late-breaking clinical trials and science to be presented at TCT.19. Included are two COAPT trials, registry studies on operator and institutional volume-outcome relationships with MitraClip and mitral surgery, and PARTNER trials. For the list of trials, see the sidebar below.]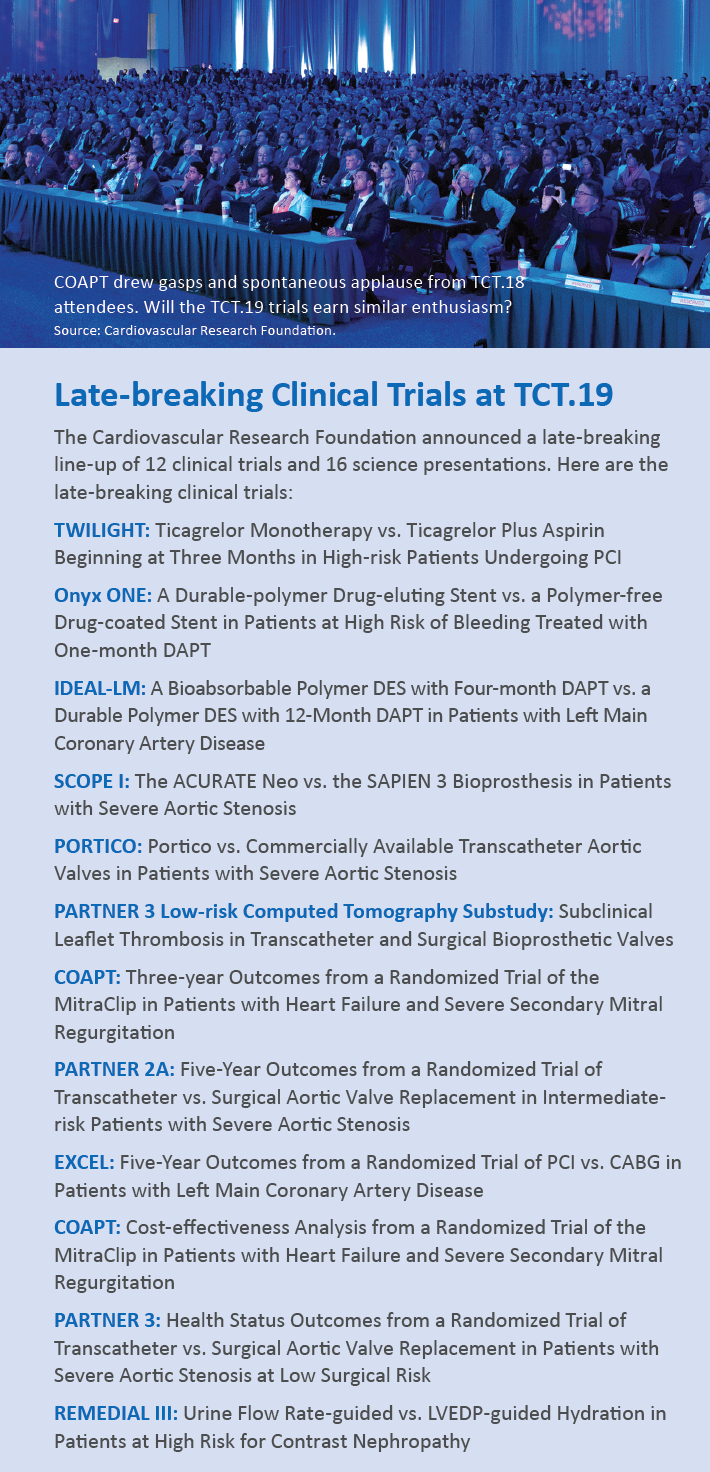 You have extended TCT's traditional FDA Town Hall meeting to include FDA University on Saturday?
Granada: For years, the FDA has structured the Town Hall at TCT to address timely topics and give investigators, researchers and industry time to discuss specific topics. This year, both CRF and the FDA wanted to have a dedicated space for people to interact with the FDA on a one-to-one basis. It will open the doors for our field's innovators to learn what the FDA expects from them, pathways to approval and so on. We're calling it FDA University @ TCT. 
What's new with Shark Tank?
Granada: Shark Tank is now part of the new Innovation track, which will cover MedTech and technological trends. The track also will include keynote innovation interventional studies on emerging coronary, drug-coated balloon, vascular and interventional heart failure therapies. We've organized the track across three days: best device concepts, best disruptive technologies and best first-in-human clinical trials. It's for anyone interested in how the field is evolving. 
Are there other new program elements or changes you'd like to highlight? 
Rawh: It's important to mention how we changed the program development for TCT.19. In April, we brought 42 physicians from around the world to CRF headquarters for a full day of collaboration and brainstorming about the program agenda. By the end of that day, we had a solid foundation for each of the tracks. As a result, attendees will find a program that reflects the consensus of a diverse international group. 
Granada: That process underscored the fact that clinicians from different areas do different things, according to what is available to them. For example, some areas have technology that isn't yet approved in the U.S. Others might face significant financial pressures that force them to do things in different ways. The programmatic changes from 2018 to 2019 are less related to including new topics than to adding topics that are relevant in different areas. 
A meeting can be technologically driven or clinically driven. It's nice when you can find a balance using topics of common interest. I think we've achieved that for TCT.19. 
Rawh: The collaborative process, with its diversity of input, also has elevated the quality of the TCT program. Attendees will see that, just as they'll see evidence of CRF's goal of featuring younger faculty on our podiums. 
Granada: It's a priority for us to identify, promote and support the next generation.
For more information about TCT.19, visit CRF.org/tct.