Cardiovascular Leaders Survey: Key Findings
The C-suite and cardiovascular service line are leading the charge on strategic planning for CVIS—with the division of power favoring CV department heads in academia and the C-suite in multi-hospital systems.
When it comes to CVIS strategy across the survey base, C-suite leaders and cardiovascular department heads share the responsibility equally often. But in academic medical centers and multi-hospital systems, the division of power is different. Across academia, cardiovascular department heads (43%) most often set and oversee the CVIS strategy, while the C-level (41%) takes the sextant and helm within most multi-hospital systems.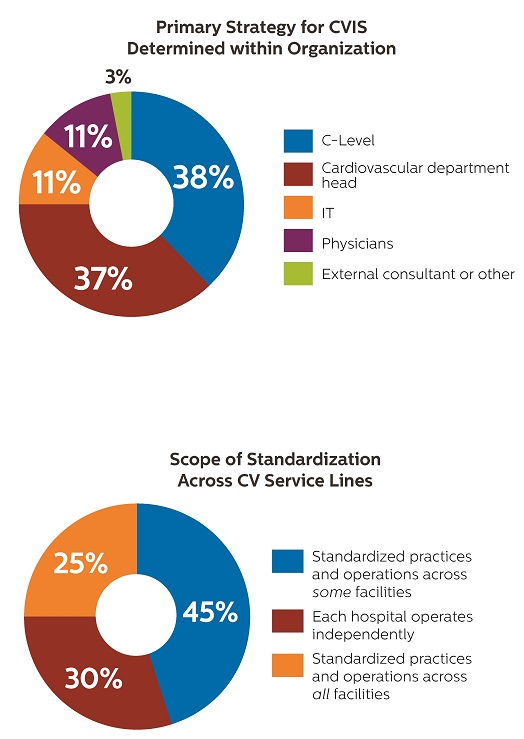 Health systems have moved to single-vendor CVIS across the enterprise; while more are considering a move.
By investing in one vendor for CVIS and integration services, healthcare leaders are sending a message they want to simplify IT burdens with a common infrastructure. Health systems can't afford to have a lot of IT systems that don't talk to one another. Many organizations struggle to support the ongoing interfacing and testing to keep integration functioning. They also want a more holistic view of the patient. So they're busting out of the integration conundrum of multiple systems across the enterprise. A quarter of the survey base are pursuing a single-vendor strategy to CVIS, while 22% are considering the move. Those numbers jump significantly in academic medical centers where 42% are moving to a single-vendor platform across the enterprise, with 26% now considering a move.
Fragmented cardiovascular service lines need to focus more on standardizing operations, practices and care.
Imperatives for improvement include a push to drive proven practices across health systems. About a quarter of survey respondents tell us they have wrapped standardized practices and operations around their whole health system. But almost a third of respondent facilities operate independently. Proven practices, protocols and operations change the face of patient survival. They reduce variance, improve quality, increase operational efficiency and eventually drive down costs.
Lack of financial resources and clear organizational strategy is holding back IT adoption and integration.
Money is a problem, and so is strategy surrounding CVIS. When we zero in on the top financial and technical challenges to CVIS adoption and upgrade, capital and finances are tight, which is no surprise across healthcare. Here's how healthcare leaders rank these difficulties.  
Cardiology's challenges focus on patients, performance and getting paid.
Like Moms and coaches often say, we learn more from our troubles than from our triumphs. So when we look at cardiology's chief challenges we get a good picture of both where we are and where facilities, departments and practices want to go. Leaders rank increasing operational performance while improving patient outcomes as their biggest challenge. And we can't forget patient satisfaction and engagement. Driving down cost gets a couple nods as does keeping staff happy. And there's the frustration with keeping up with data, technology and multiple systems and multiple vendors again. 
Consolidation of care providers continues to add tension to managing CV health.
Consolidation of care providers ranks a consistent 4th on the top trends lists of chiefs of cardiology, cardiovascular service line directors and cardiologists. That's no wonder, as the consolidation wave that began a decade ago continues. Dealing with the fallout from consolidation has cardiology departments stretched even thinner when new hospitals come on board. Leaders struggle to manage different cath labs, echo systems, clinical IT systems, EMRs, billing systems and more. Clinical practices and processes can differ too. There also can be lingering apprehension and insecurities in the culture around the integration with staff and clinicians.
Siloed data is hindering progress.
Healthcare leaders are counting on data and innovation to solve problems like physician and staff shortages. But as we know, the cardiovascular service line struggles to manage many IT systems and myriad databases and sources. Cardiologists in particular need discrete data to manage complex disease. The numbers respondents report show a lack of access, integrating and connectivity. What they don't show is the frustration of caregivers trying to get data they cannot access or decisions that could have been better made with better data. Is the exasperation fueling burnout? We know data fatigue drives physicians to seek out positions in more IT-friendly environments. And it costs more than $1 million today to recruit, train, and replace a physician 
(per the American College of Cardiology, ACC).
Physicians are playing a larger role in decisions around CVIS and IT to achieve the Quadruple Aim.
Some 76% of healthcare leaders tell us they are engaging physicians more often in IT decision-making in the name of the Quadruple Aim. They rank earning physician support and buy-in No. 1 on the list of challenges to CVIS adoption and upgrade. Physician leaders, namely chiefs of cardiology and cardiologists, are key members of steering committees purchasing and upgrading CV IT. They know what works well and where significant improvements to IT, training and strategy should be made. They're strong advocates, eager to spread the word to the C-suite, IT and other key decision-makers to encourage top-down ownership and commitment to stronger clinical workflow solutions. That need for ownership and commitment ranks 5th among the top administrative and clinical challenges to CVIS adoption and upgrade.
Academic medicine zeroing in on AI-enabling the enterprise—and leading the charge to more coordinated CVIS and data access.
When we listen to the voice of academic medicine—which represented 14% of respondent organizations—some slightly different tunes emerge. These traditional trailblazers rank artificial intelligence among their top trends, a topic not named by the broader survey base. They also are ahead of the curve in deploying a single CVIS across the enterprise, with 25% saying they've already made the move. More facilities are considering the same move, with 42% telling us they have plans in place and 26% are considering it. Data also flows more freely across the enterprise with 85% reporting access to all patient records within CVIS across all facilities and 68% can access images, measurements and calculations from their EMR. Good data and actionable analytics are a strategic and competitive differentiator.
Healthcare leaders need ways to burn out physician burnout.
Clinician and physician burnout rank among the top 5 challenges on the minds of the survey base and specifically C-suite execs, cardiologists and CV service line directors. Across medical specialties, half of physicians experience symptoms of burnout. Statistics are not as common among clinicians but the battle is the same. The consequences are painful for caregivers and to patients too, bringing harm and leading to excessive cost and burden to the healthcare ecosystem. Among ACC's recommendations to quell burnout is readdressing the EMR time burden and the reduction of face-to-face time with patients. EMRs lack diagnostic tools for cardiology, and cardiologists often swivel amongst several IT systems to find key information. To ease stress and burnout, CVIS needs to be the cardiologist cockpit, a one-stop-workshop for intuitive review of data, images, waveforms and analysis tools, workflow and structured reporting.
Patients need to be cared for within the right level of acuity.
To optimize length of stay, reduce readmissions and move patients into lower cost settings—three of the top challenges facing the CV service line—healthcare providers need to elevate or deescalate patients to an appropriate level of care at an appropriate facility. This is what will build quality and economic sustainability. The key to good outcomes is accessing and leveraging actionable data, good communication and collaboration and well-orchestrated, team-based care.